Hong Kong PKI Forum Introduced the Key to Smart City—Digital Signing
Date:2015/10/31 – 2015/11/08  Venue:Hong Kong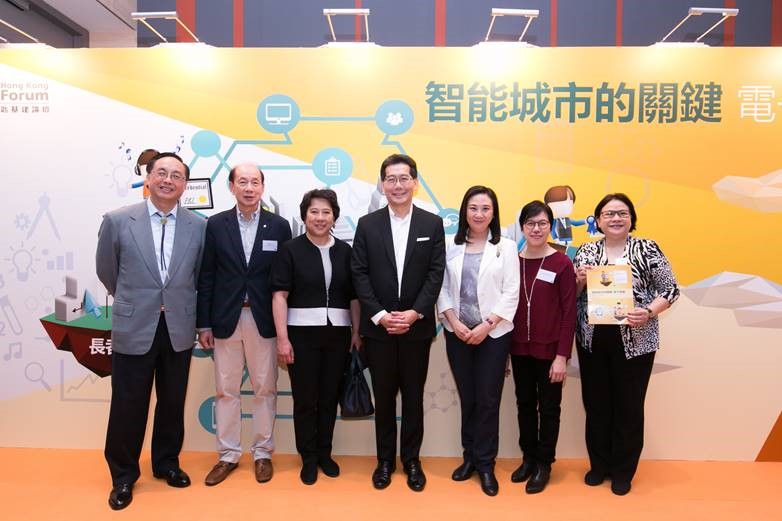 From left:
Advisor to the Chief Executive on Innovation and Technology - Mr. Nicholas W Yang, JP
Chairman of the Hong Kong Productivity Council (HKPC)-Mr. Stanley Lau Chin-ho
Permanent Secretary for Commerce and Economic Development (Communications and Technology) - Miss Susie HO Shuk-yee, JP
Secretary for Commerce and Economic Development - Mr. Gregory SO Kam-leung, GBS, JP,
Legislative Council Member - Dr Hon Elizabeth QUAT, JP
Commissioner for Innovation & Technology –Ms. Annie Choi Suk-han
Hong Kong PKI Forum Vice Chairperson—Eva Chan
Underscoring the theme "InnoTech – Key to a Boundless Future", InnoCarnival 2015 was solemnly opened on 31th Oct and ended on 8th Nov successfully at Hong Kong Science Park. Hong Kong PKI Forum, which has always been dedicated to promoting Public Key Infrastructure products and services, set a booth under the theme of "The Key to Smartcity-Digital Signing" aiming at introducing to citizens the role of Digital Identity and Digital Signing in smartcity life, and popularizing the knowledge of Digital Signing implementation.
The booth illustrated smart identity authentication and Digital Signing system in campus, including e-learning, Wi-Fi security, e-book redemption and digital rights management, to provide security for the campus life online that require identity authentication and confidentiality. Renowned educator, incumbent Chairman of Incorporated Management Committee of Fung Kai No.1 Secondary School, Mr. Ma Siu Leung, BBS, made personal appearance at the booth to acquire more about Digital Signing system in campus who highly appreciated the work done by Hong Kong PKI Forum and gave his suggestions on the system.
In addition, Secretary for Commerce and Economic Development - Mr. Gregory SO Kam-leung, GBS, JP, Permanent Secretary for Commerce and Economic Development (Communications and Technology) - Miss Susie HO Shuk-yee, JP, Commissioner for Innovation & Technology –Ms. Annie Choi Suk-han, Advisor to the Chief Executive on Innovation and Technology - Mr. Nicholas W Yang, JP and Legislative Council Member - Dr Hon Elizabeth QUAT, JP as well as Liaison Office of the Central People's Government in the Hong Kong Special Administrative Region, Mr. Liu Zhi Ming toured the booth showing their solid support and expectation to the Digital Signing development.
Apart from the booth, during the carnival, Vice Chairperson of Hong Kong PKI Forum, Ms. Eva Chan, CEO of Nexusguard Consulting Services, Ronald Pong and Chief Technology Officer(CTO) of Certizen Limited, Vins Fong has delivered their excellent speeches respectively on "Conventional Signing vs Digital Signing", "Internet Security Protected by Digital Identity", as well as "Dream of Smart School" that had presented people with an overall idea how e-cert and Digital Signing can contribute in different areas in regards of enhancing security of e-transaction.